Mega 80's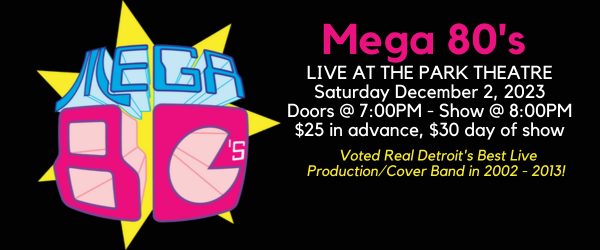 Mega 80's
Saturday December 2, 2023
LIVE AT THE PARK THEATRE
Doors @ 7:00PM - Show @ 8:00PM
$25 in advance, $30 day of show
$50 VIP RED LEATHER CHAIRS
BIO
Take a handful of your favorite 80's songs, a splash of some retro fashion, a pinch of panache and an eye-popping video spectacle in the background and what do you get? The Mega 80's, of course! Since their emergence onto the Detroit music scene, the Mega 80's have taken southeast Michigan by storm. Now veterans of the 80's cultural milieu, they are still rocking as hard as ever. The proof is in the pudding! They've since been bestowed with awards such as: the Real Detroit's "Best of..." Best Live Production/Cover Band in 2002, and have won this category every year through 2013! Hour Detroit's best local band, 2009. The Knot: Best of Weddings 2010 pick and one of WDIV's "4 The Best" top 5 bands. This also includes playing at the Palace of Auburn Hills and being highlighted on Mitch Albom and Fox 2 News.
Lead vocalist for the Mega 80's, Carey Denha, has been the vocalist of Going Public, a Michigan State band he played in when he attended the university in the 90's. Carey has now embarked upon managing other high end production bands like the Mega 80's in his new venture, Tangerine Moon Productions. So far, Tangerine Moon Productions has brought into the musical fold three other great shows, The Hype Syndicate (top 40's tribute band), Boogie Dynomite (a multimedia disco tribute)and The Square Pegz (the female fronted counterpart to the Mega 80's). Tangerine Moon Productions will also be bringing other high end Las Vegas type acts to Detroit as well.
With all of the continued improvements to the show, from dancers to enhanced video media (even personalized birthday/bachelorette messages), the Mega 80's and Tangerine Moon Productions will continue to fill concert halls and add to your experience. From the banks of the Red Cedar at Michigan State University to House of Blues, fans agree that the Mega 80's put on a show like no one else!