SAMROSE Entertainment presents: The Mic Killers Comedy Showcase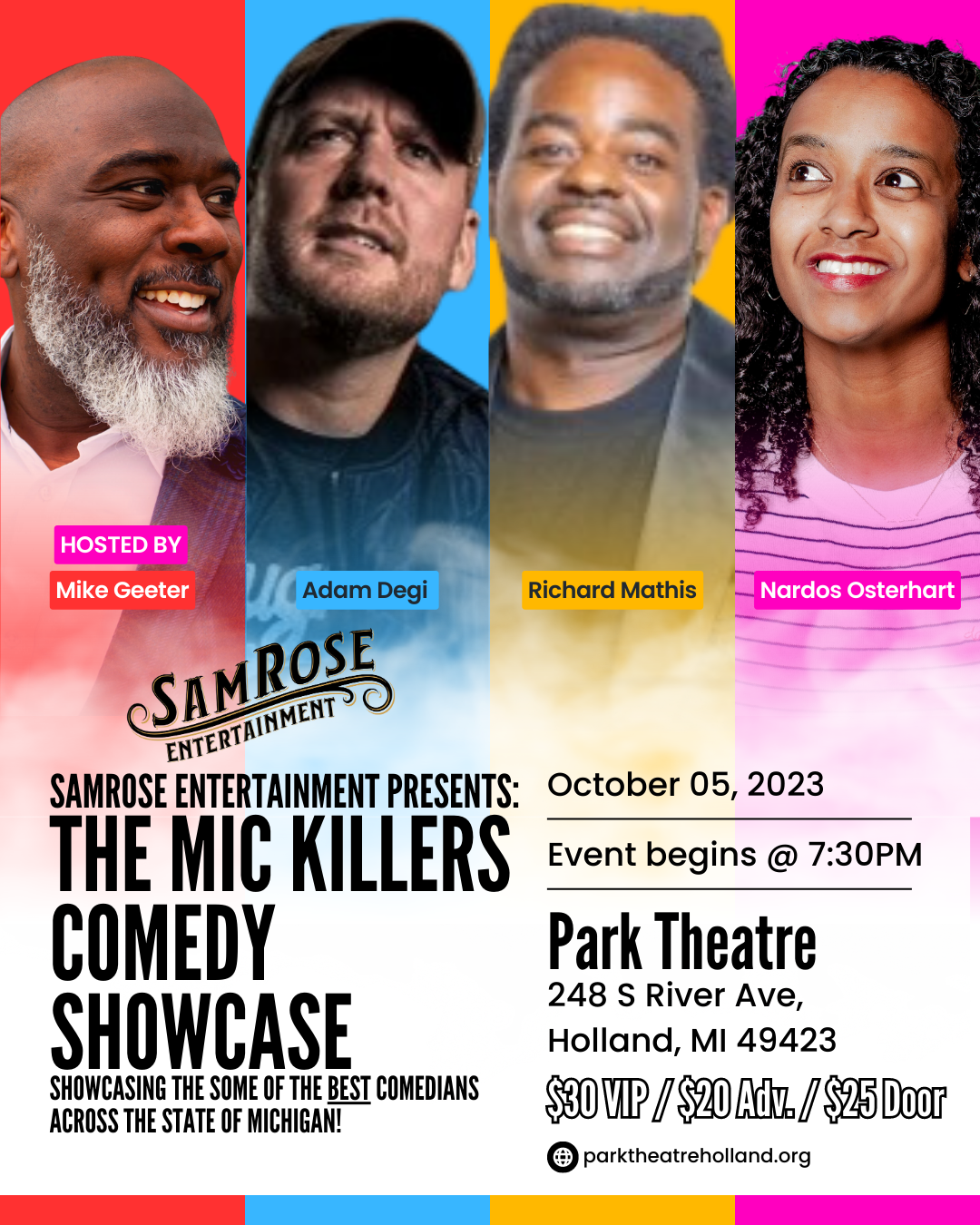 SamRose Entertainment is kicking off a brand new comedy series bringing in international and national touring headliners as well as Michigan favorites at the Park Theatre in Holland, MI! This month, we are proud to present a showcase of incredible Michigan comedy talent in our show "The Mic Killers Comedy Showcase" starring Adam Degi (Grand Rapids), Richard Mathis (Battle Creek), and Nardos Osterhart (Grand Rapids). Hosted by Mike Geeter (Lansing).

18+ or with adult supervision
Doors @ 6:30PM - Show @ 7:30PM

General Admission: $20 in advance, $25 day of show
VIP Preferred Seating: $30
TABLE FOR 4 ADD-ON: $100



ABOUT ADAM: Adam Degi isn't just another straight white male comedian, he's had cancer, twice. His talent and joke writing separates him from the pack. He was a performer in The Best Of The Midwest Competition at Gilda's LaughFest in 2019. His 2nd album 'Limp Nodes' will be available on iTunes, Spotiy and SiriusXM this fall. Adam performed at the prestigious Boston Comedy Festival in 2016. In 2014 he was in the Semi-Finals of the Comedy 10K as well as being featured on the cover of Revue Magazine. He won the Funniest Person in Grand Rapids Competition in 2009 just his 2nd year into comedy and he's the founder of the annual Degi Draft. His strangely endearing personality and ability to riff, rant and improvise sets him apart and makes every show unique. With an unapologetic, outspoken, unfiltered, and often unscripted act it's difficult to tell when he's telling a well written joke or just getting something off his chest. Adam Degi is anything but predictable and when he has a microphone in his hand you never know what might happen. He might even sing A cappella. He's a cancer survivor, and a comedy survivor.
ABOUT RICHARD: Born and raised Battle Creek, Richard left home in 2002, and started doing comedy at Crackers Comedy Club and ran around doing open mics till he got his first 20 minutes, then started doing feature sets in bars. He won the Detroit to LA competition and has been working ever since.
ABOUT NARDOS: Nardos Osterhart has been doing standup since 2012 and won the Funniest Person in Grand Rapids contest in 2013. She competed in the San Francisco Comedy Festival in 2014, and produced a successful one woman show that was included in Laughfest. Nardos also released an album in 2019 that hit #1 in comedy on the ITunes charts. Her humor highlights the absurdities of everyday life, memories from the past, and parenting fails. Her comedic influences are Bill Burr, Nate Bargatze, Maria Bamford, and John Mulaney.
ABOUT MIKE: As an Ivy League dropout and community college graduate from Pontiac, MI, Mike brings a pointed look at life, family, and relationships that few others can…or should. Mike has worked in some of the finest comedy venues in the country to work with mainstream comedians as Kevin Hart, Hannibal Burress, Jim Norton, Artie Lange, Rickey Smiley, and Natasha Leggero to name a few. Mike was featured on Hulu and Fox Television's comedy showcase "Laughs" (Season 1) and the Detroit episode of "Kevin Hart Presents: Hart Of The City 2" on Comedy Central (Season 2).