Full Cord Bluegrass "Thanksgiving Eve"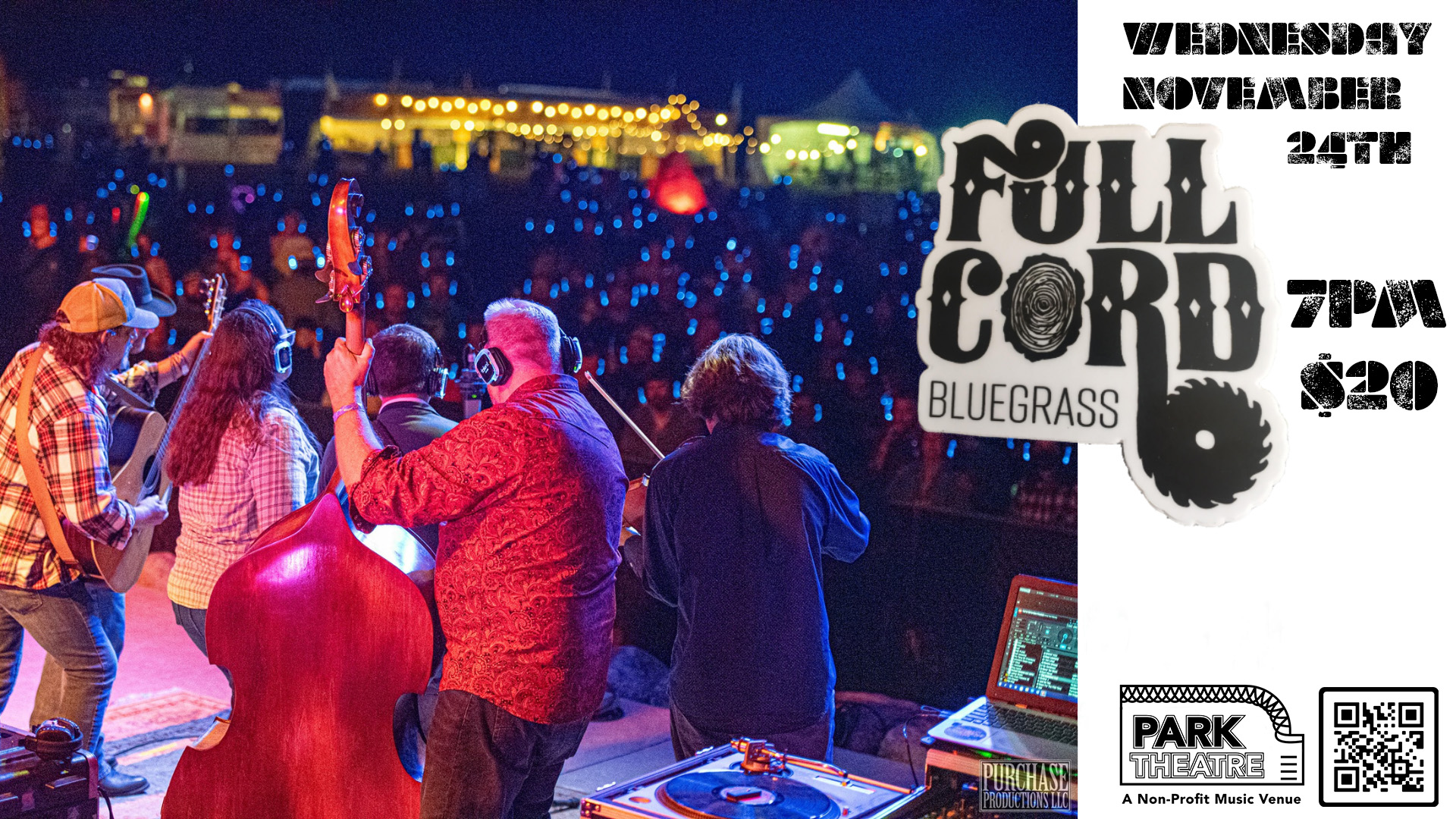 ABOUT FULL CORD BLUEGRASS

The band has an extraordinary song base, with songs ranging from originals, traditional country and bluegrass to modern pop hits, big band era tunes and everything in between (and we do mean everything!). With hundreds of songs in their repertoire, they never run out of songs to choose from.

This is not your Grandpa's Bluegrass but we can tilt a few rocking chairs back with our traditional skills.

Based in West Michigan, Full Cord has had the privilege of performing all over the state, from private parties and events to breweries, barns and bluegrass festivals.

With the talent of over 80 years combined musical experience, Full Cord brings incredible style to traditional bluegrass. They are introducing bluegrass music to everyone in a way that keeps people coming back for more.

THE BAND

ERIC LANGEJANS
Eric is a multi-instrumentalist with an exceptional ear for music. He has been in many bands including Down Home and Woodpile. Affectionately called "Fast Eric" by his peers, his lighting fast riffs on the guitar are a sight to behold and a joy to listen to.

TODD KIRCHNER
Todd has played bass since his early teens and grew up attending bluegrass festivals. He has honed his skills on the upright bass over the years and has played in several bluegrass bands including Rusty Thimbles, Continental Blue, and Who Hit John

BRIAN OBERLIN
Brian Oberlin is an internationally acclaimed mandolin player and educator. During his decades long professional career, Brian has been playing swing, bluegrass, and Italian classical as a solo mandolinist and vocalist. Brian celebrated the release of his 20th album in May, 2016; Troubadour which features Brian playing solo and singing original music. Along with the myriad of award-winning bands (The Journeymen, GER Mandolin Orchestra with Mike Marshall and Twin Mandolin Slingers with Evan J. Marshall) and ensembles he has collaborated with throughout the United States and Europe, Brian is also the founder and director of the River of the West Mandolin Camp, the Great Lakes Mandolin Camp and the Oregon Mandolin Orchestra. Brian was a top ten finalist at the 2013 Telluride Troubadour Contest, an instructor/performer at the 2012, 2013 and 2017 International Mandolin Academy in Italy, a featured soloist at the 2014 EuroFest Plucked String Festival in Bruchsal, Germany, and a featured soloist at the 2015 Mandolin Upgrade festival in Berlin, Germany. When he is not performing, Brian teaches music to children and adults at art centers, cultural events, festivals, camps, music schools and academies.
Find more about Brian at www.mandoberlin.com

Grant Flick
Of Bowling Green, Ohio, has been playing and performing for the past eight years on many instruments including violin, mandolin, tenor guitar, tenor banjo, and nyckelharpa. Primarily, his interests are jazz/swing, bluegrass, and new acoustic music. Currently, his main original musical projects include Westbound Situation and Warren & Flick. He has received numerous music awards including the 2013 Daniel Pearl Memorial Violin, and he was a 2015 finalist in the Walnut Valley Festival Fiddle Competition in Winfield, Kansas, as well as a 2017 finalist at the Freshgrass Fiddle Competition in North Adams, Massachusetts. He has been selected as a two time participant (2015 and 2016) of the Acoustic Music Seminar held at the Savannah Music Festival in Savannah, Georgia. He has taught workshops at the Tenor Guitar Gathering (Astoria, Oregon), Falling Waters Music Camp (Ithaca, New York), and Augusta Bluegrass Week (Elkins, West Virginia). He has performed at the Grey Fox Bluegrass Festival, Red Wing Roots Festival, Indiana Fiddler's Gathering, and many other festivals. Frank Vignola, Mike Marshall, Julian Lage, and Darol Anger are just some of the notable musicians with whom Grant has appeared on stage. Grant is attending University of Michigan for jazz studies.

Lloyd Douglas
Lloyd is from Alpena, Michigan. He has played Banjo, Guitar, Fiddle, and Mandolin in several bluegrass, country/rock, jazz, and blues bands. He has been a member of David Davis and the Warrior River Boys, Jim & Jesse and the Virginia Boys, and Detour. He has filled in with Lynn Morris Band, Audie Blaylock, and Michael Cleveland and Flamekeeper. While with the Warrior River Boys he recorded on the famed Basement sessions for legendary WAMU DJ Ray Davis. As a member of Jim & Jesse he played on the Grand Ole Opry. Lloyd also had the privilege of playing on Michael Cleveland's Grammy nominated album Fiddler's Dream.